Events/ Photos
Wear a hat day for William
The whole school took part in a 'wear a hat' day for William Newcombe, one of our former pupils, who lost his brave battle with cancer in March 2018.
Over £200 was raised, which will be used to create a quiet and peaceful area on the school field in William's memory.
We would also like to thank Gates Hut Ltd and the Mulvey-Bryce family for their donation of a bench for the area.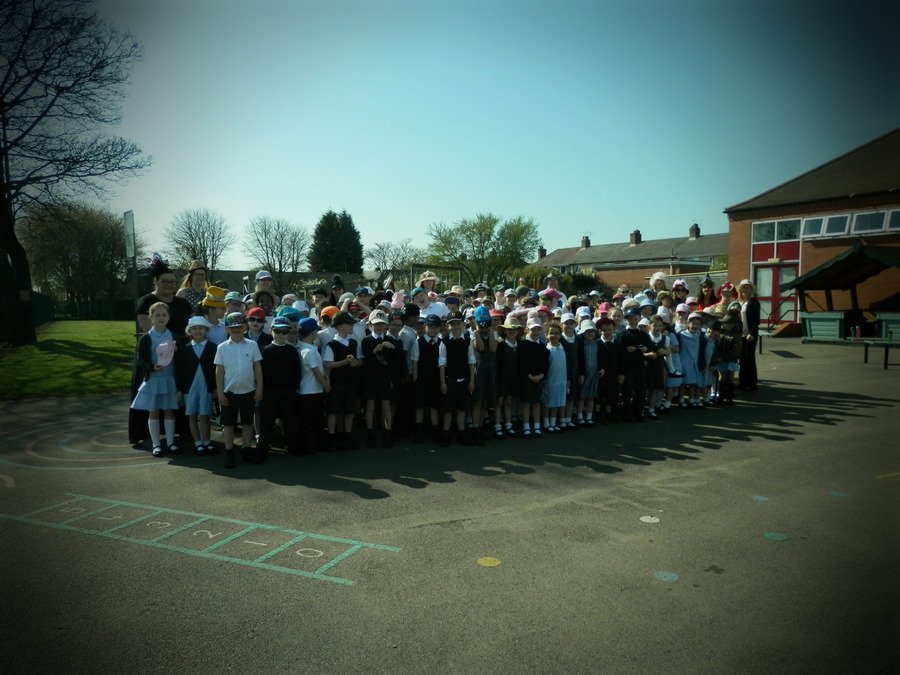 Christmas 2018
Tea With Santa
St Teresa's Class Nativity
Doncaster Rovers Penalty Shoot-out July 2018
Bike and Scooter Safety - 2018
On Thursday 24th May we had a bike and scooter safety assembly. Please see a selection of photographs below.
Tr-EAT with the teachers
Well done to the children who received golden tickets this week and congratulation to the two winners from each class who shared a special lunch with staff.
Maths Stay and Play Day 2018 - St Teresa's Class
Parents were invited into school for be with their children to take part in a maths stay and play session.
World Book Day 2018
On Friday 9th May we held our World Book Day. Children and staff came to school dressed up as characters from their favourite books. Everyone made a great effort and looked brilliant! Below is selection of photographs from the day.
Magic Maths Day
On Monday 29th February the whole school enjoyed a day full of maths. There were plenty of different Maths investigations and problem solving activities throughout the day. Each class had a session with Jasmin and her Magic Maths and there was also a lesson about My Maths, the online Maths resource that school had recently purchased.
School Council Easter Competition 2016
The School Council would like to thank all of the children who took part in their Egg Decorating Competition. A winner was decided (by the school council) from each class and then from these Mr Carroll chose an overall winner. The money raised will go into the School Council budget to pay for their initiatives.
The winning eggs were decorated by Harry S (Foundation), Brooke G (St Patrick's), Harrison M (St Andrew's), Libby (St David's) and Courtney (St George's class).
Inspiring Author David Lawrence Jones
On Monday 23rd November we experienced an inspiring showcase presentation from a local born author, David Lawrence Jones. David involved the children throughout his presentation by using some amazing props during the show, while telling us about his background and what inspired him to become an author. He certainly created a positive buzz about reading and writing among us all in school.
Judaism Day
On Wednesday 21st October the whole school were involved in a carousel of activities to learn about the Jewish faith and Culture. Special thanks go to Mrs Murphy, who is our acting RE Coordinator whilst Mrs Cummins- Smith is on maternity leave and to Miss Williamson, our Curriculum Coordinator, for organising the day.
Throughout the day the children learnt about many things; The Torah and Hebrew writing. They compared the Synagogue to the Catholic Church as well as comparing the Sabbath (as practiced and understood in Christianity and the Hebrew Sabbath). They studied the story of Abraham and Sarah and learnt all about Passover and the importance of The Ten Plagues, and the Seder Meal at this special time.
Pantomime
On Monday 4th January 2016, we were able to enjoy a performance of "Jack and the beanstalk" by Chaplins Pantomimes. We have used Chaplins for the last two years and their performances have been fantastic. As the Spring Term now begins we will use this show as a stimulus for our children's reading and writing. The children and staff all seemed to thoroughly enjoy this performance.
Blessing of the Advent Wreaths
On Monday 30th November Father Norman joined us in school and blessed our Advent Wreaths. The wreaths, which were made by a group of parents in school last week, will be used in school as a focus for prayer and reflection during the advent countdown to Christmas.
Special thanks go to the people who supplied greenery for the wreaths, the parents who made the wreaths and to Father Norman.
Cross Country
Well done to all our children who represented our school at the Cross-country competition on 25th September 2015. Our Year 5 and 6 boys and girls tried extremely hard and didn't give up. Overall, Year 3 and 4 boys came third and the Year 3 and 4 girls came first in their category. Congratulations!
Year 4 Boys' Football
On Tuesday 29th September 2015 a team of Year 4 Boys travelled to Balby Carr School to take part in a football competition. The boys played very well and finished in joint third position in their group. Well done boys! Next week it is the turn of the Year 5/6 boys. How will they do?
Year 5/6 Boys' Football
...On Tuesday 6th October 2015 a team of Year 5/6 Boys travelled to Balby Carr School to take part in their football competition. There were 15 teams in the competition, split into 3 league groups. The boys played very well with 1 win, 1 draw and 2 games lost, finishing in joint second place in their group. Well done boys!
Democracy Week (Week commencing 14th September)
The children have been looking at what democracy means. We have taken this opportunity for the children to elect their class' School Councillors.
We are delighted to announce this year's School Council is Aleksander, Sinead, Maggie, Lucas, Awakhiwe, Libby, Georgina, Leo and Ruby.
Take a look here to see how St David's class made a proposal for a bill and then had a class debate imagining that they were all MP's in the House of Commons. There were lots of arguments for and against. It helped them understand why it can take a very long time for a law to be made.
Rainbows Celebrate Me Day
Poem by Thomas Booth
There are tears of sorrow,
There are tears of joy,
Here at Rainbows we help each other,
Every girl and every boy.
Diversity Week
During Diversity Week (Week commencing 29th June) the whole school learnt about some of the different cultures that make up the Doncaster community.
On Wednesday the children took part in a carousel of activities to learn more about Islam. On Thursday the children took part in a number of activities delivered by a group from EMTAS. The children learnt how to dance like actors from Bollywood, make Pakoras, explore Mehndi designs and discuss Polish culture.
We believe that it is really important that the children learn about other cultures to gain understanding. With greater understanding, comes tolerance and respect. With tolerance and respect, hopefully there is greater harmony and a chance of a more peaceful world. Equipped with this knowledge our children will be better citizens in an increasingly diverse society.
The Big Sing Liturgy Th!ng
Pupils and some of the staff from St George's Class participated in the "Big Sing Liturgy Thing" on Friday 12th June. The event was organised by the Family of Doncaster Catholic Schools and was held at St Peter in Chains Church, Doncaster. It was an uplifting experience and a great chance to meet up with other Catholic schools in Doncaster. There was a feast of music, dance, song, readings and prayers which all came together to deliver a valuable liturgy at the end of the day.
The whole day enabled us to worship and reflect whilst expressing ourselves, which enhanced our spiritual journey.
Cricket
On Wednesday 20th May our Year3/4 cricket team took part in the McAuley pyramid finals. It was the first competition our team had played and they all played really well. The team won 3 out of 4 matches and came second overall in the competition. A massive well done to the whole team!
Match report to follow:
Democracy Week
With the General Elections taking place on Thursday 7th May, the children have been learning about democracy. During assembly on Friday afternoon (8.5.15) the children from each class shared some of the things they had learnt throughout "Democracy week".
The children have started to find out what democracy in Britain is like including the different political parties, the voting system and how it is decided who will be Prime Minister.
York Birds Of Prey
Most of our children had the opportunity on Wednesday to get a close up view of some fascinating creatures including a barn owl, eagle owl, a baby owl and a Harris hawk. York Birds of Prey came into school and the children learnt many interesting facts and were even able to watch the hawk and barn owl flying in the school hall.
School Council's Easter Egg Competition
The School Council suggested that we run an Easter Egg decorating competition. Children from the older four classes were busy decorating eggs as part of the School Council's initiative. Children were invited to enter their eggs into a competition for a fee of £1.00 to raise funds for the School Council. Mr Carroll had a very hard job judging the competiton. Foundation Class had to decorate an egg as part of their homework and representatives of the School Council judged the winner here. Here are some photos and a list of winners. Well done to Cadey, Aoife, Thomas, Courtney and Ella.
Lent
During this time of preparation for the great celebration of Easter, we got ourselves ready spiritually to welcome the risen Christ. We tried hard to follow the three recommendations for Lent: To pray more, to give something up or do something extra and to raise money for those less fortunate than ourselves. During Lent, the children have reflected on thoughts for the day and the Stations of the Cross, they have tried to make some personal sacrifice and each class has organised a successful fundraising event. . The total amount of money raised that will be divided between CAFOD and The Good Shepherd charities is £275.49.
I would like to thank Fr Norman for all the time he has given to our school this Lent to celebrate class Masses and hear confessions. Fr Norman led a Liturgy of the Word for St Patrick and Foundation classes. On Wednesday, St Patrick & St Andrew's classes told us about what happened on Palm Sunday. Yesterday, St David's then went on to describe the events of Maundy Thursday. This afternoon, St George's Class explained the meaning of Good Friday.
Come and See
As part of our Come and See work, the children study two other world faiths. Just before half term the children learnt about Judaism which is closely connected to our Christian faith. The whole school took part in a carousel of activities on Wednesday 11th February 2015.The children were able to visit other classrooms finding out about different traditions and symbols of the Jewish faith.
The pupils were able to make chocolate marshmallow dreidles, Star of David biscuits, menorah handprints, a Star of David made using lolly pop sticks as well as their own mezuzah.