Welcome to St Joseph & St Teresa's
Catholic Primary School.
Tel: 01302 723320 Fax: 01302 728011
St Joseph & St Teresa's School is a GOOD school.
Please click here for the full report.
We hope you find everything you need. If you have any queries or if you require a paper copy of anything on our website, please contact Mrs Middleton in the school office.
Fr Norman's Retirement
On Thursday 19th July 2018 we invited Bishop Ralph to celebrate a Thanksgiving Mass to mark Fr Norman's retirement.
Fr Norman has been a priest for 28 years and served our Parish for the last 17 years. He has been a great friend and support to our school. After Mass, we all enjoyed a picnic on the school field.
Below are a selection of photographs from the day.
Bridlington 2018
Below are a selection of photographs from our visit to Bridlington. Seventy two of our pupils were rewarded with a trip to the seaside after achieving all 5 of their Golden Promises.
Wear a Hat Day for William
The whole school took part in a 'Wear a hat day' in remembrance of William Newcombe, one of our former pupils, who lost his brave battle with cancer in March.
Over £200 was raised, which will be used to create a quiet and peaceful area on the school field in William's memory.
We would also like to thanks Gates Hut Ltd and the Mulvey-Bryce family for their donation of a bench for the area.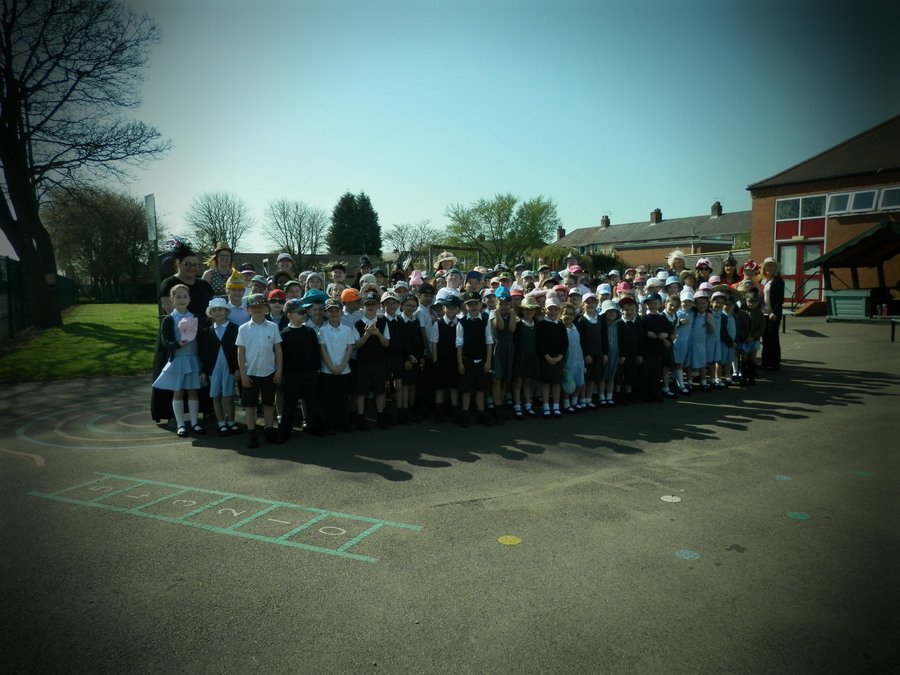 Nursery Admissions
If you are looking for a 'GOOD START ' to your child's education, where children are 'HAPPY, SETTLED AND KEEN TO LEARN' (Ofsted 2016) then please come to look around our school.
We have places available in our Nursery for September 2018.
Click here to see more about our nursery and parents comments.
100% Attendance Award
Annabelle received a special award for the great achievement of attending school every school day since starting in Reception class in September 2011
Well done!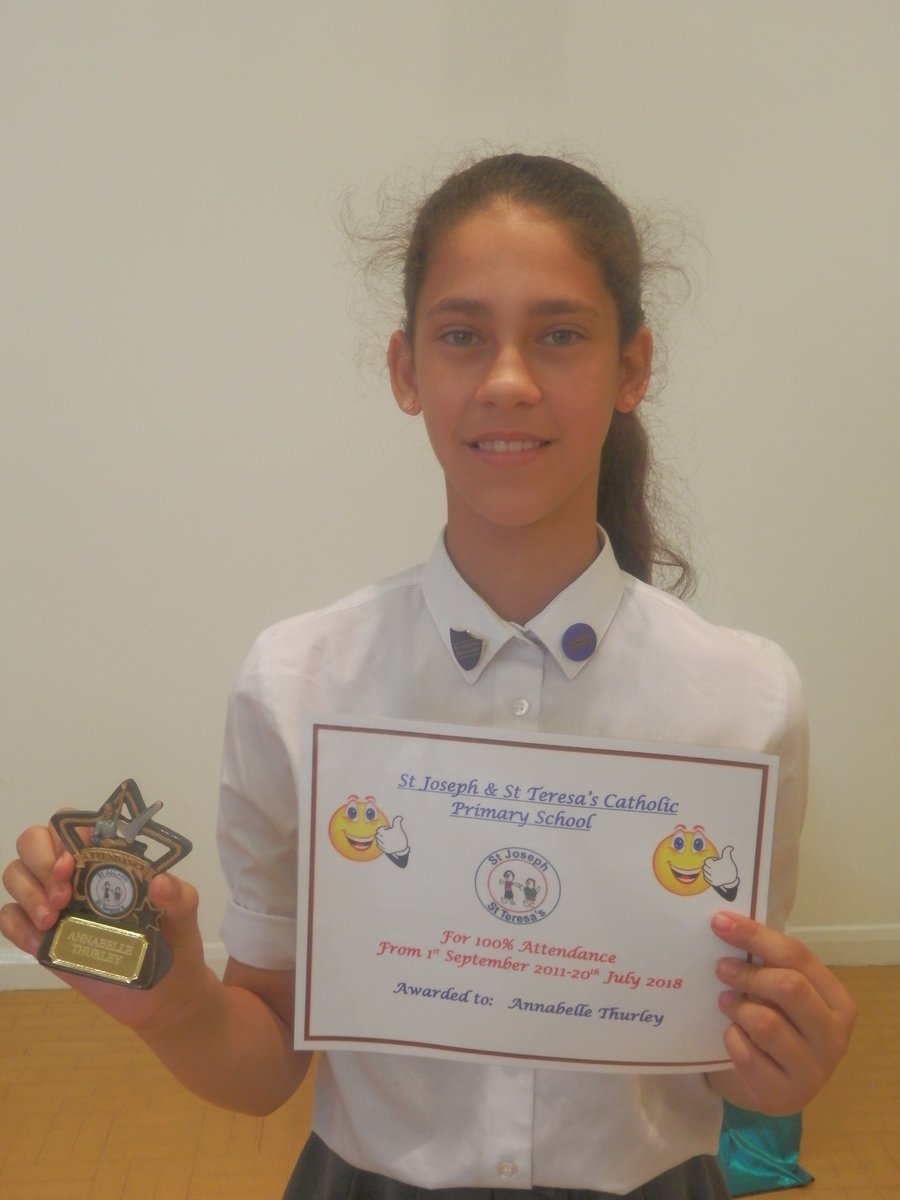 Below are the pupils who all achieved 100% attend for the Summer Term 2017/18
Well done to them all!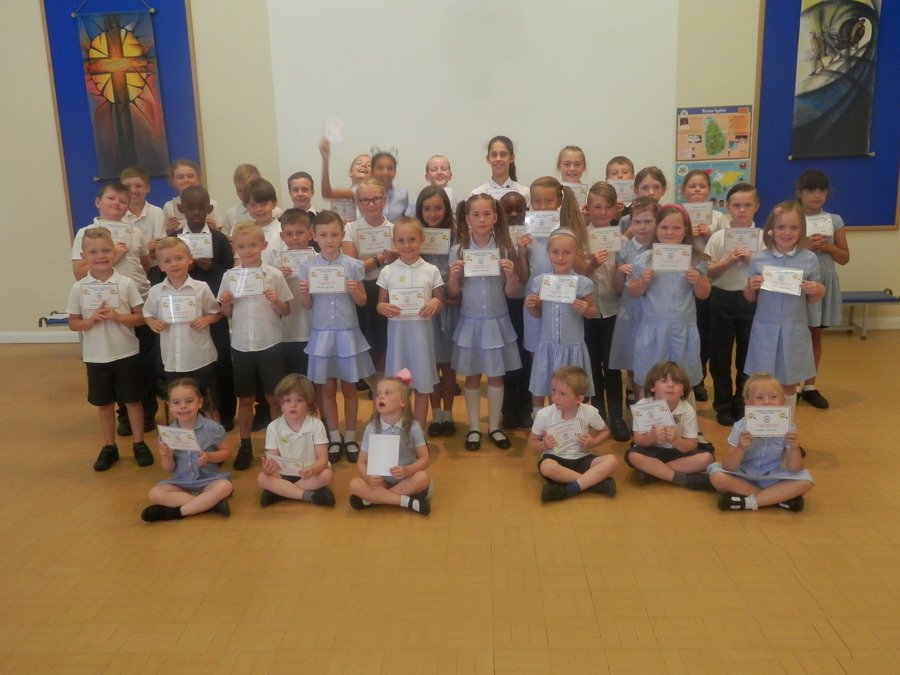 Latest 2018-2019 Events
St George's visit to Beamish

24

Sep

2018

8:45 am - 5:30 pm @ Beamish

St George's class will be visiting Beamish as part of their class topic.

Meet the teacher sessions in classrooms

26

Sep

2018

3:30 pm - 4:15 pm @ Classrooms

Awards and birthday assembly

28

Sep

2018

2:40 pm - 3:25 pm

Phonics & Reading meeting for St Teresa's & St Patrick's parents and carers

04

Oct

2018

3:30 pm - 4:00 pm

Welcome Mass for the whole school

05

Oct

2018

10:00 am - 11:00 am @ St Joseph & St Teresa's Church

Welcome Mass for the whole school. Parents/Carers are welcome to attend.
100% Attendance
Well done to the 16 children who have been to school every day since September 2017.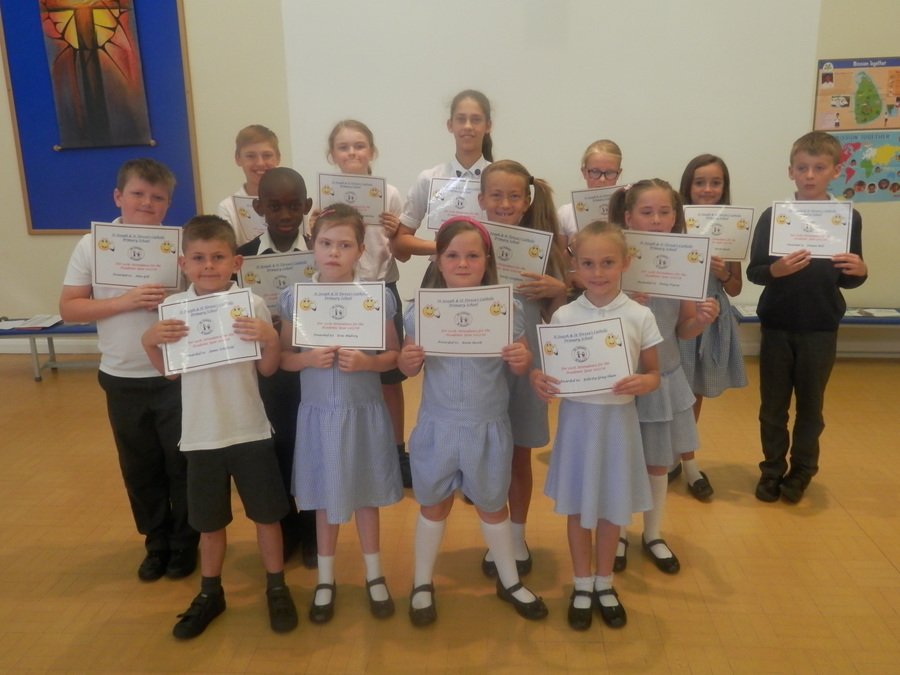 Congratulations to the children who made their First Holy Communion in 2018